It's that time of the year when many of us take our annual vacation. For those of us who plan to bring our fur-legged friend on vacation, it is wise to plan ahead to ensure your pup has an enjoyable experience. Whether it be a road trip or a flight, proper planning will help make your vacation easier and safer for your dog.
Road Trip Vacations.
Traveling with a pet by way of motor vehicle involves more than just having him hop in the back seat and taking off. This, especially if you will be driving for an extended period of time. Here are a few car travel safety tips to help you prepare for a more enjoyable and comfortable journey.
Prepare, prepare, prepare. For first-time dog travelers, a good way to get your dog accustomed to long road trips is by taking him for shorter trips ahead of time. Building up his tolerance to car rides before taking him on a long trip is a good way to start.
If you are traveling to another state, it is a good idea to bring a copy of your pup's vaccination records. Each state has its own set of animal laws, and having a copy of these documents readily available will save time and effort should they be needed.
Have a pet travel kit prepared before leaving. Inside this kit include a few of your pup's favorite toys, a leash, a collar, a small backup bag of dog food, and a few bottles of drinking water. For dogs who prefer to ride on the car's seat versus in a crate, consider a properly sized safety dog harness. Buckle up for safety!
It is also important to make sure to double-check your dog's identification tag on his collar. If in the event he escapes your care, the person who finds him will be able to more easily identify who he is and who to contact. You should also take into consideration your pet's potty needs. If you plan to pull off of the roadway to allow him to do his business, make sure you have disposable waste bags and a disposable container to put the waste bags in after use.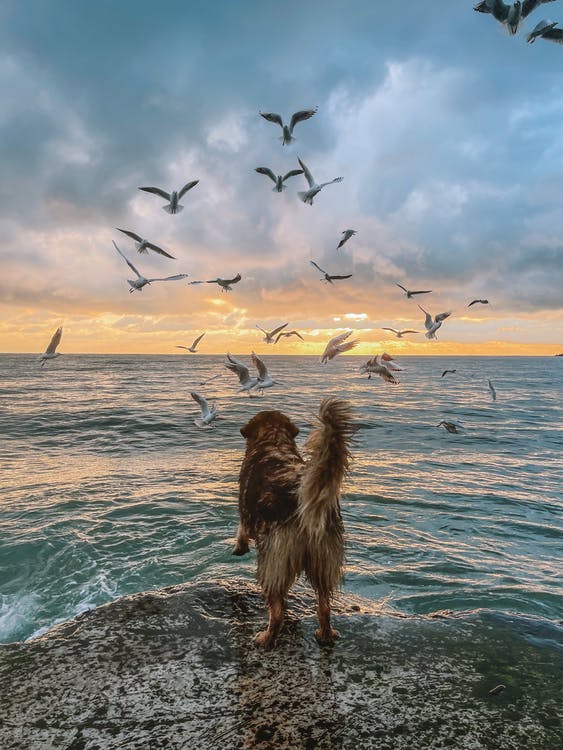 Traveling By Air
Air travel is certainly a quicker method of transportation but much more stressful for your dog. It will require him to be away from his family and in a crate in a different and loud environment. Many dogs do not handle air travel well and this form of transportation for them should only take place if absolutely necessary. Below are some travel tips for dog owners who plan to fly their dogs.
Book a direct flight to your destination if possible. This will allow your dog to get situated in one area versus having to be transported from plane to plane. It will also limit the amount of time he has to be in a crate and away from his family.
Consider purchasing a USDA approved dog transportation crate. The crate should be large enough for your pet to comfortably stand, turn around and sit in. Inside the crate, include one of your t-shirts. Your pup will be comforted with this due to him being able to smell your scent while he is away from you. Be sure to secure at least two forms of identification on this crate which include your name, phone number, and address. Make sure your dog doesn't overeat leading up to the flight. Chances are the flight will cause him stress and an upset stomach could lead to vomiting and or diarrhea.
Tips For Keeping Your Dog Safe After You Arrived
Scope out the area where you are staying before letting your pup explore. Certain destinations will have areas designated just for dogs to play in. Be sure to keep him well secured on a leash and collar and be mindful of other dogs in the area. Remember, not all dogs are as friendly and outgoing as yours. Even though you are all on vacation and most likely taking the day as it comes, try and keep your pup on his routine feeding schedule. This will allow him to feel a sense of normalcy and better his chances of keeping his outdoor potty time schedule the same.