We love our dogs a lot as they provide us with a lot of joy, but excessive barking can be very difficult to handle, especially on a daily basis. Many dogs will naturally begin to bark when they see someone they do not recognize. Although this is a good thing in some instances, in most, it is unnecessary and annoying. The repeated sound of a barking dog will also eventually annoy neighbors and could land you in hot water with your local authorities. So how do you teach your dog not to bark at strangers?
Why do dogs bark at people they do not know?
First, let's look at why dogs bark at people in general. The most common reasons are:
General excitement bark: Simply said, dogs are excited to see and interact with new people! Most dogs are very social creatures, and when approached by someone new, they are eager to meet and interact with them. To determine if the barking is excited-based, look at their tail. A highly energetic and wagging tail typically means a happy and excited dog.
Territorial bark: Many dogs are territorial of their home, property, and family. Some dogs view a stranger as someone who is not authorized to be at their home and or as a potential threat to the family living there. The territorial bark is used to warn the stranger to stay away. It is also used to alert the dog's family that a possible intruder is approaching for safety.
Lack of socialization bark: Dogs that have not been raised in social environments tend not to know what to do when a new face is observed. Barking is a natural reaction in dogs, and this behavior may take place by default. Allow your dog to socialize with other people and pets, which will help him to better accept new people. Fear bark: Your dog may have just been alarmed! Even dogs that are properly socialized and who are not overly territorial can be alarmed and begin to bark. Dogs are designed, for the most part, to be alert and to guard. This can happen to even the most laidback pup, who will bark when scared.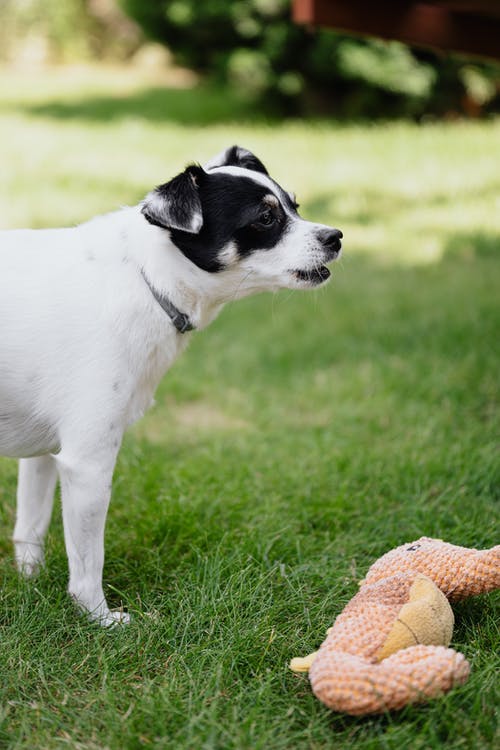 How To Stop The Unwanted Behavior
Do not overreact to their barking. Dogs that bark for attention know their barking is effective when they get a reaction from their human family. Like a child who acts a certain way when he or she needs attention, dogs do too. Limiting your reaction will allow your pup to see that his barking will not result in any attention.
Walk Away
When you walk away from a dog, he recognizes there is no reward. When he barks at someone and you walk away, he may begin to associate the excessive barking with something he should not do. Paying too much attention to the negative behavior may end up making it worse.
Distracting Them
On the flip side, some dogs need a distraction in order to take away their focus on what is causing them to bark. If your dog begins to bark, simply distract them with noise. This can be accomplished by shaking your keys, slapping your hands, whistling, or using one of his favorite squeaky toys. If this is effective, he should be rewarded, which will associate positive behavior with a reward.
Need To Remember You should not forget that your dog is a dog. Dogs do bark and do get excited for various reasons. It is in their DNA! Being patient with your dog is needed in all instances. Although excessive barking can be a nuisance, keeping cool and not overreacting is a great first step in managing it. Your dog can tell when you are stressed, so a calm and patient demeanor with him is what will yield the best results.