Homemade dog treats come with a variety of benefits. For one, you know the ingredients in them. They are also less expensive than commercially produced dog treats. They are also something fun to make! Before feeding your pup anything that he normally does not eat, it is always recommended that you check with your veterinarian first. It's always better to be safe than sorry. Below is a list of our favorite homemade dog treats that we think your pup will enjoy!
Baked Chicken Treats
For a quick and easy treat, consider this homemade baked chicken dog treats from Eileen Anderson. Using a basic pyramid pan, this recipe can make about 500 small treats that your dog will drool over. After being baked, you can refrigerate or freeze the treats.
Treat Ingredients:
1 10-ounce can of chicken, including liquid
2 eggs
1 cup tapioca flour
cup of white flour
1 tablespoon of coconut oil
Baking Directions:
Preheat oven to 350F.
Blend chicken and eggs in a food processor.
Pour the mixture into a bowl, and stir in flour and oil. This batter should be a little thicker than pancake batter but still pourable.
Spread the batter onto the silicone mold on a cookie sheet, making sure it's in the holes, and then scrape it off the dividers.
Bake for 12 minutes.
Once cooled, turn over the mold and dump the treats out.
You can bag up the treats and refrigerate or freeze them.
Homemade Bacon Pyramid Pan Treats
Is your fur-legged friend a fan of bacon? If so, this simple recipe by Michelle Taylor will be a hit. With four basic ingredients, this is a great homemade treat for beginners.
Treat Ingredients:
package of bacon
2 eggs
150 grams of gluten-free flour
Water to thin
Baking Directions:
Preheat oven to 350F.
Blend the bacon and eggs.
Add flour. Stir in water if the batter needs to thin.
Smooth the batter over the baking mat and bake for eight minutes.
Once cooled, cut the treats into bite-sized pieces.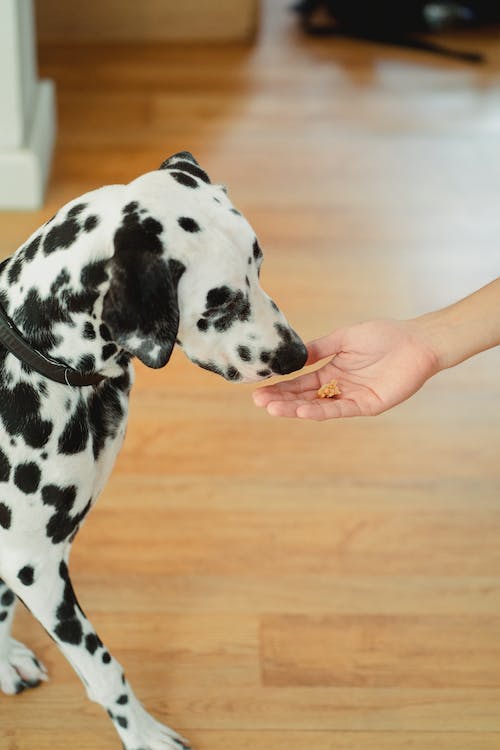 Peanut Butter Dog Treats
Almost all dogs love the creamy and sweet taste of peanut butter. If your dog is a fan of it, give these treats by Eileen Anderson a whirl!
Treat Ingredients:
2 eggs, beaten
2 tablespoons canola oil
cup peanut butter powder
cup white flour
cup tapioca flour
cup water
Baking Directions:
Preheat oven to 350F.
Mix the ingredients until smooth.
Pour the mixture into the pan.
Bake for 12 minutes or until the treats are soft but still drawing away from the side of the pan.
Once cooled, stretch the pan and dump the treats out.
Cheese and Sardine Pyramid Pan Dog Treats
Looking for a protein-packed treat for your pup? If so, this cheese and sardine dog treat is the answer.
Treat Ingredients:
* 1 can of sardines
* 2 eggs
* 150 grams of grated Parmesan cheese
* A handful of roasted vegetables
* 75 grams of tapioca flour (or plain flour)
* Water
Baking Directions:
1. Preheat oven to 320F.
2. Blend all the ingredients in a blender to make a thick batter. Add water as needed to make it thicker.
3. Smooth the mixture over the baking mat and bake for about 15 minutes or until crispy.
4. Once cooled, cut into small pieces.
Cheddar-Apple Dog Biscuits
This classic one is from Martha Stewart and is a combination of cheddar and apple.
Treat Ingredients:
2 cups barley flour
cup old-fashioned oatmeal
1/3 cup shredded cheddar cheese
1/4 cup grated Parmesan cheese
1/3 cup unsweetened applesauce
2 tablespoons olive oil
Baking Directions:
Preheat oven to 350F. Line a baking sheet with a nonstick baking mat or parchment paper. Set aside.
In a large bowl, mix together all ingredients and about 3 tablespoons of water to form a dough. Roll out the mixture between two sheets of plastic wrap to -inch thick. Remove plastic wrap and cut out biscuits with a 3 -inch bone-shaped cookie cutter. Re-roll scraps and continue cutting out biscuits.
Space biscuits 1 inch apart on a prepared baking sheet. Bake for 30 minutes until nicely browned and firm.
Transfer biscuits to a wire rack. Turn off the oven and place the biscuits on a wire rack in the oven overnight. Remove from the oven and store in an airtight container for up to two weeks.
We think your pup will love these tricks, which are all healthy sources of nutrition. As mentioned earlier, always check with your veterinarian before feeding your dog anything new.